Robert Capodilupo & Jacob James Rich*
Introduction
The opioid crisis continues to ravage communities across the United States. In 2020, a record 91,799 people died of a drug overdose,[1] with 68,630 of these deaths attributed to opioids.[2] Even as policymakers appropriate unprecedented resources to reduce drug-related mortality,[3] the overdose crisis persists with no end in sight.
In her Yale Law & Policy Review Article, The Prescription Abuse Prevention Act: A New Federal Statute to Criminalize Overprescribing Opioids, Rebecca A. Delfino proposes novel legislation to reform how the federal government prosecutes doctors who overprescribe controlled substances.[4] According to Delfino, her Prescription Abuse Prevention Act (PAPA) would improve on current law by "offering a more specific and contextual legal framework focused on the expertise of the medical prescriber … [to] provide much-needed clarity in the law, thereby allowing legitimate prescribers to continue to treat patients in pain."[5]
While PAPA has the noble intention of punishing doctors who knowingly overprescribe drugs that cause the death of a patient, its unpredictable implied-malice standard[6] will only further breed uncertainty for physicians.[7] In turn, as physicians indiscriminately reduce prescribing to avoid potential liability under PAPA, legitimate patients who can no longer access opioids legally may turn to the black market to meet their medical needs, increasing their risks of overdosing on more dangerous opioids like heroin and illicit fentanyl.[8] Because PAPA fails to clarify the criminal-liability standard for physicians, it will not ameliorate the opioid crisis and may very well exacerbate it by orienting both medical and recreational users to the illicit market.
I.              Correcting the Record on the Opioid Crisis
Before turning to how PAPA could yield harmful unintended consequences, we would first like to address the errors in Delfino's Article that mischaracterize the nature and causes of the opioid crisis. Because the Article's policy prescription relies on the premise that the "all-too-common conduct [of] overprescribing opioids"[9] is a leading cause of overdose mortality,[10] it is necessary to evaluate the validity of this claim.
This premise is more tenuous than Delfino suggests. Beyond hairsplitting over the Article's at-times inaccurate history of American drug policy,[11] we are concerned with its problematic mischaracterization of the rise of opioid prescribing in the United States and the state of the relevant literature discussing addiction—especially that which was available in the 1990s when OxyContin first entered the market. Like many popular accounts of the opioid crisis,[12] Delfino claims that the now-infamous Porter & Jick study[13] "laid the groundwork for the marketing practices that spawned the opioid crisis in the United States."[14] While Porter & Jick's letter to the editor in the New England Journal of Medicine itself presents insufficient evidence to support the efficacy of opioid treatments—and was incautiously misrepresented by pharmaceutical companies "to minimize the risk of addiction in the use of opioids"[15]—Delfino is wrong to suggest that there was a "dearth of peer-reviewed replicable scientific research and clinical studies on the efficacious applications of opioids."[16] In fact, many studies published before the introduction of OxyContin in 1996 supported Porter & Jick's findings that opioid addiction is rare in medical patients with no history of addiction.[17] More recent research has supported the specific claim that the rate of addiction for patients prescribed opioids with no history of substance abuse is less than one percent.[18] However, Delfino characterizes the literature in the 1980s and 1990s as a "research gap filled to a large extent by the Porter and Jick letter" and blames "[t]he diminished role of the federal government in funding drug science."[19] Neither of these statements is true. In addition to the aforementioned literature indicating the efficacy of opioids during this period, funding for the National Institutes of Health—the government agency responsible for medical research—quadrupled between 1980 and 1999.[20]
As much of the literature from both the late-twentieth century and the present day share the letter's conclusion that the "development of addiction is rare in medical patients with no history of addiction,"[21] it is inaccurate for Delfino to describe this letter as the preeminent source of the academy's understanding of opioids without acknowledging the breadth of the relevant literature.[22] Though Porter & Jick's study was not especially rigorous, Delfino's neglect of considering more thoroughly researched findings from that period renders her account of the evidence used to justify early opioid prescribing incomplete.
Indeed, Delfino's focus on the relationship between physician prescribing and opioid misuse might lead one to believe that "nonmedical pain reliever use," the type of opioid abuse that is related to overprescribing, has been increasing for some time. On the contrary, nonmedical prescription-pain-reliever use has remained overly stable for at least the past two decades.[23] Although OxyContin was introduced in 1996 and Purdue Pharma's marketing campaign subsequently increased its market share within the industry of pain relievers that contain oxycodone,[24] only 9.0% of all nonmedical opioid users in 2001 reported ever using OxyContin during their lifetime.[25] A review by Kolodny et al. describes a rise in nonmedical opioid use following the introduction of OxyContin, with over 2.5 million people initiating first use of opioids in 2001.[26] However, much of this reported rise was likely due to major changes in survey methodology[27] and any real change would have been almost entirely driven by codeine, which 71.9% of past-year nonmedical prescription opioid users reported using during their lifetimes in 2001.[28] Indeed, this reported spike in nonmedical pain reliever use was accompanied by new developments in the entertainment industry said to "glamorize and promote the mixture" of codeine with soft drinks,[29] which motivated the Drug Enforcement Administration (DEA) to indict a group of medical professionals for illegally distributing 1.4 million tablets of hydrocodone and 2,100 gallons of promethazine with codeine in 2004.[30]
Overall, it is not clear that nonmedical opioid use has significantly changed since 1990. Even if the one reported spike in nonmedical pain reliever use between 1999 and 2001 was not entirely due to changes in survey design, this increase was not due to OxyContin exposure.
Figure 1—Percentage of the Population Consuming Prescription Opioid Pain Relievers in the Past Year for Nonmedical Purposes by Lifetime Use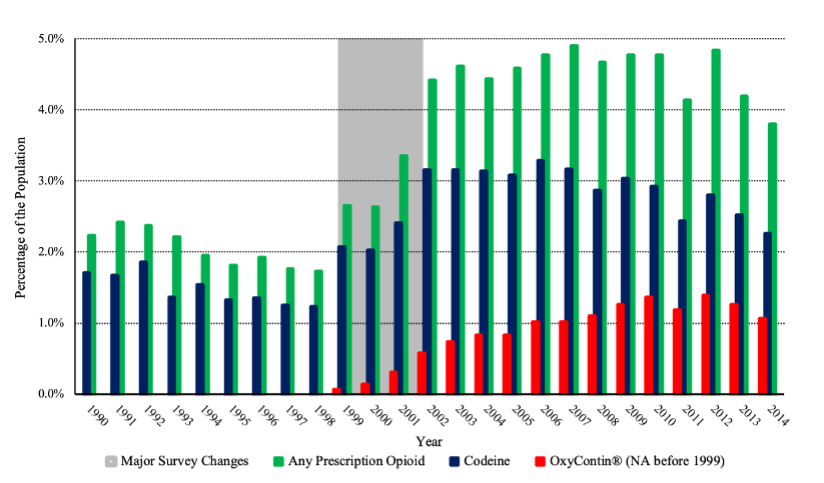 Figure 2—Proportion of Past-Year Nonmedical Prescription Opioid Users Who Have Used Codeine or OxyContin® During Their Lifetimes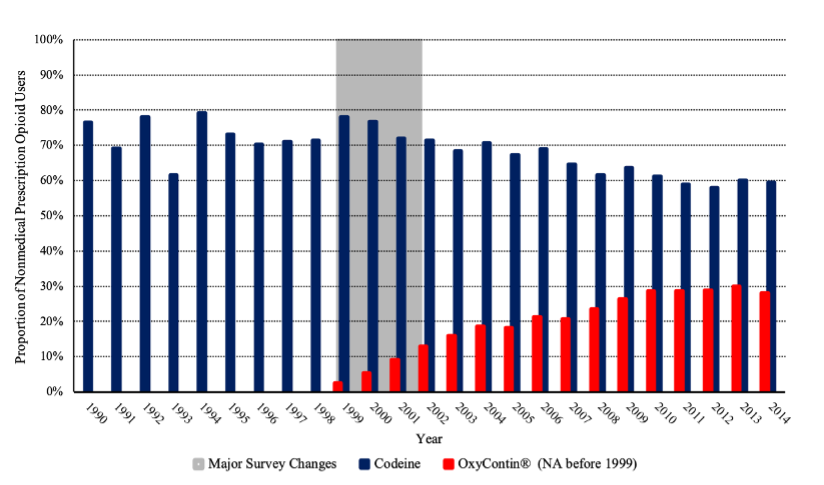 But most damaging to Delfino's normative project is its incorrect statement that "[s]eventy percent of [opioid overdose] deaths involve an opioid that a doctor legally prescribed."[31] One can only arrive at this claim by treating synthetic opioids, like fentanyl, as "legally prescribed" drugs—a practice that is rejected by the relevant literature for inaccurately representing the source of most fentanyl.[32] According to a report published by the Centers for Disease Control & Prevention (CDC), "only a small percentage of fentanyl deaths had evidence consistent with prescription fentanyl," while the vast majority of these deaths derive from "[i]llicitly manufactured fentanyl."[33] By August 2017, the CDC had formally removed fentanyl from the definition of prescription opioid mortality.[34]
Moreover, to count all cases of fentanyl-overdose deaths as those caused by legally prescribed controlled substances inflates the fraction of deaths attributable to prescription opioids.[35] If policymakers want to use legislation to reduce overdose deaths, then it is critical for them to know where opioids that disproportionately lead to mortality are sourced. Prescription opioids have not accounted for a majority of opioid-overdose deaths since 2014 and have not represented a majority of total drug-related deaths since substance-specific data have been available.[36] Instead, illicit fentanyl is the driving force behind this most recent wave of the opioid crisis. In fact, the CDC wrote in JAMA that fentanyl alone accounted for "nearly all the increase in drug overdose deaths from 2015 to 2016."[37] This has held for every year following.[38]
Figure 3—Opioid-Related Mortality Rate by Substance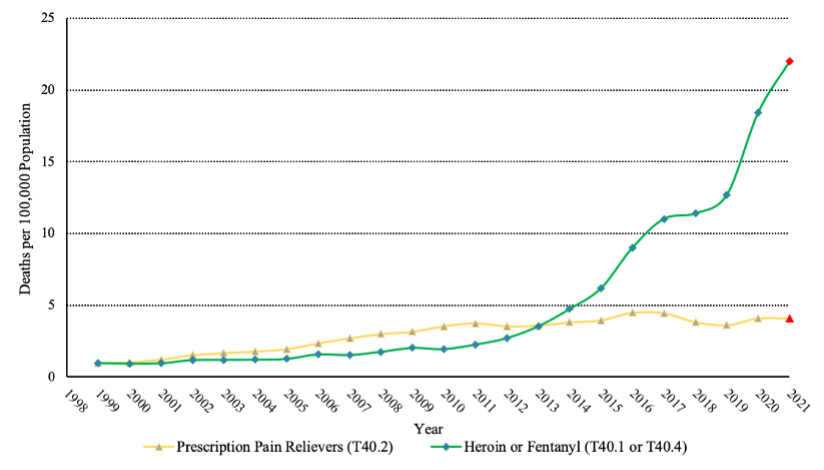 While opioid prescribing has declined over the past decade,[39] total opioid deaths have skyrocketed because of a spike in illicit-opioid overdoses. Thus, policies oriented at combatting prescription-opioid-overdose deaths may be ineffective at, or even counterproductive to, reducing the illicit-opioid overdoses that are primarily influencing the crisis. Although multiple studies find that certain types of prescription drug monitoring programs (PDMPs)—state-level databases that record the prescribing history between physicians and their patients for auditing purposes—are associated with reductions in opioid prescribing and prescription-opioid deaths, this literature suspects that their implementation is also associated with an increase in total drug-overdose deaths, driven by a larger increase in deaths caused by heroin and fentanyl.[40] Several other studies show that policies aimed at reducing opioid prescribing, in an effort to lower prescription-opioid-overdose deaths, at minimum lead to a rise in illicit-opioid-overdose deaths.[41] Though it may seem counterintuitive that policies effective in reducing the availability of prescription opioids can increase overdose deaths, opioid-related mortality has increased amid a decrease in opioid prescribing.
Figure 4—Opioid Prescribing by Substance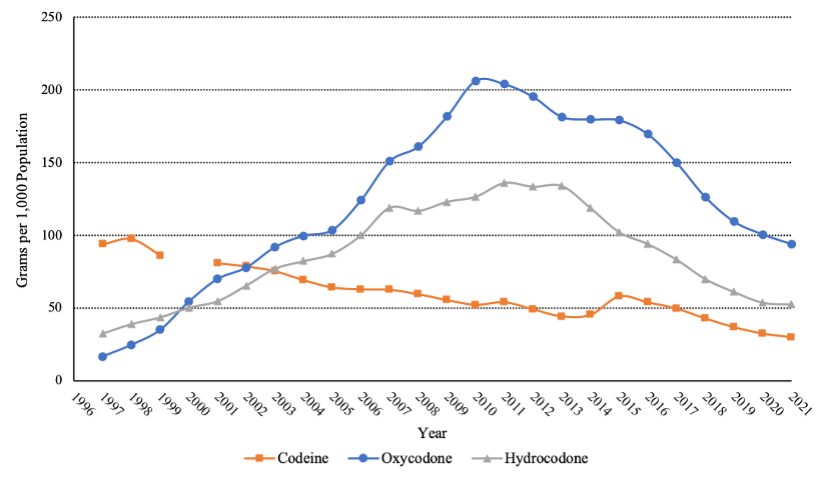 This outcome likely occurs because users cut off from legal channels of prescribed, quality-controlled drugs are often driven toward the black market to supplement their demand for opioids,[42] where drugs are far more dangerous. As one account explains, "[q]uality control is poor in underground markets because . . . [c]onsumers cannot easily assess the purity of the products they consume," increasing the likelihood that they "accidentally take high-​dose drugs or versions laced with more potent opioids like fentanyl."[43] Because of these inherent dangers of the black market, policies that unduly restrict access to legal channels of prescribing appear to exacerbate overdoses from illicit opioids—as is reflected by the rapid rise in fentanyl deaths in the wake of these policy interventions.
Overall, Delfino's failure to properly exclude fentanyl as a "legally prescribed"[44] opioid constructs a false premise that prescription opioids are the principal cause for the current wave of the opioid crisis. This mischaracterization undermines the cogency of her policy proposal and could potentially yield the devastating unintended consequence of increasing overdose deaths.
II.            The Potential Unintended Consequences of the Prescription Abuse Prevention Act
Interventions that target the doctor-patient relationship bear the risk of yielding unintended consequences, especially when an addictive substance is being regulated.[45] The most harmful possible consequence of PAPA is that it would create a "chilling effect," as physicians are deterred "from prescribing opioids to successfully treat a patient's pain … due to the potentially negative influence of drug enforcement agents monitoring their prescribing behaviors."[46] Delfino even acknowledges that the "lack of clarity" created by haphazard prosecution under the Controlled Substances Act (CSA) "causes healthcare providers to refrain from prescribing opioid drugs even for legitimate medical purposes."[47] As such, PAPA is meant to represent "a clear statute that targets specific and defined conduct [and] give[s] physicians the freedom to alleviate legitimate chronic pain without fear of criminal ramifications."[48]
Yet PAPA would only increase an appropriate prescriber's chance of facing prosecution as compared to the current CSA regime. According to the proposed statute, "[a] health care professional who … acting with implied malice, proximately causes the death of another by knowingly and intentionally prescribing, distributing, bartering, delivering, exchanging, or administering a controlled substance classified in Controlled Substances Act … is guilty of murder in the second degree."[49] Literally, PAPA, like the CSA,[50] offers an intent or knowledge mens rea standard. However, the proposed statute's addition of an "implied malice" standard, and its capacious definition of it, could hold every prescriber who has a patient overdose liable.[51] By design, "the implied malice standard … embeds a doctor's expert knowledge, practice experience, and specialized medical training evidence into the offense," creating a "presumption of knowledge" for all prescribing physicians.[52]
Moreover, any overdose death following an opioid prescription could potentially qualify as a criminal offense under PAPA. Delfino appears confident that the additional need for the prosecution to prove "other evidence showing that the actor … deliberately acted with conscious disregard for human life"[53] would ameliorate "unjust outcomes afforded to some doctors" prosecuted under the CSA for legitimate prescribing activity.[54] This conclusion is far from certain.
According to Delfino, PAPA improves upon the CSA's "legitimate medical treatment" standard by requiring jurors to instead "consider the subjective risk that the physician was able to assess in light of their knowledge and expertise from their medical training."[55] As PAPA already presumes that a prescribing physician has sufficient knowledge, the only path towards acquittal is contingent on disproving whether "the facts available to the prescriber about the patient" establishes his conscious disregard for human life.[56] But the text of PAPA does not provide any guidance as to what "other evidence"[57] is sufficient for this purpose or how this inquiry is substantively different from that analyzing the legitimacy of the prescription. All PAPA does is shift the jury test from "an ad hoc analysis to determine whether physicians prescribed opioids for a legitimate medical purpose" to an equally amorphous ad hoc test of whether the prescriber "deliberately acted with conscious disregard for human life."[58]
Lastly, it is unclear whether the presented "unjust" CSA cases would have turned out differently under PAPA. For instance, in United States v. Miller, a physician was convicted under the CSA after he allegedly "continued prescribing narcotics to patients despite the presence of clear red flags of drug abuse[,] … prescribed controlled substances when there were contraindications against use[,] … [and] 'relentlessly continued' prescribing controlled substances to a patient who had been admitted to the hospital with an overdose."[59] Because PAPA aims to do away with the CSA's "undefined 'legitimate medical treatment' standard," Delfino suggests that Miller would have resulted in acquittal, as "the evidence of criminality was weak."[60] However, given Dr. Miller's medical training and presumed knowledge of the dangers of opioids under PAPA, it is not obvious that a jury would not consider his aforementioned prescribing practices as sufficient additional evidence to establish implied malice, and thus, liability.
In one respect, however, PAPA may improve on the current CSA regime. As Delfino notes, "PAPA would also impose criminal liability on pill mill doctors who escaped liability under the CSA and similar state statutes" by focusing on proximate, rather than but-for, causation.[61] In theory, a legal regime that is better suited for prosecuting the most egregious examples of non-medical overprescribing is desirable. Still, "[m]ost … prescription opioids … are not coming from 'pill mills.'"[62] As such, undermining the significance of this benefit, especially considering the costs brought on by PAPA's likely chilling effect. Furthermore, though closing down pill mills and punishing the doctors running them may seem advantageous, evidence suggests that heroin and fentanyl deaths may actually increase as pill mills are closed and their former customers turn to the black market.[63]
Instead of clarifying the law to increase opioid access to legitimate pain patients, as Delfino hopes to accomplish, PAPA appears to preserve a physician's current incentive not to prescribe opioids in any circumstance. The law's scant explanation of the implied-malice standard and presumption of knowledge perpetuate uncertainty for prescribing physicians—and perhaps even increase a physician's liability for legitimate treatments—by replacing one amorphous standard with another.
If physicians face the potential of criminal liability for prescribing legitimate treatments, many physicians will choose to cease prescribing altogether[64] and patients will suffer.[65] According to one addictologist, "patients [who are cut off from legal-prescribing channels] are going to have a physical dependency, and some of them might be able to wean themselves off, but some are going to buy heroin on the street and some of that is going to be laced with fentanyl."[66] This may explain why much of the increase in overdose deaths is among patients with disabilities,[67] as those in most need of pain medication for treatment switch to heroin when prescription opioids become less accessible.[68]
Thus, while PAPA's intention of clarifying criminal liability for prescribing physicians is noble, its failure to do so—demonstrated by its muddled implied-malice standard and burdensome presumption of physician knowledge—will likely perpetuate a chilling effect on prescribing and further orient patients towards the dangerous illicit opioids that are driving the crisis.
Conclusion: A Better Path Towards Harm Reduction
Speaking to the political salience of her proposal, Delfino states that "in terms of optics and symbolism, a federal criminal statute focused expressly and exclusively on opioid prescribers signals to the public … that the opioid crisis is of such monumental significance that it deserves unique treatment."[69] In times of crisis, it is common for governments to pursue policy interventions,[70] but the long-term effects are often undesirable.[71]
The adoption of PAPA's implied-malice standard would only further complicate the physician-patient relationship by increasing legal uncertainty and disincentivizing doctors from providing opioid treatments to addiction and pain patients alike. In turn, those users who are cut off from legal channels of prescribing would need to turn to the black market to meet their demand for opioids, increasing their risk of fatal overdose.
Our criticisms of PAPA, however, should not be taken as an endorsement of the current regime under the CSA. We agree with Delfino that the "[p]rosecution of doctors under the federal CSA has been problematic in several respects."[72] However, this is because the CSA has made it more difficult for doctors to provide legitimate opioid treatments for patients, out of fear of prosecution. As such, instead of abandoning the CSA regime, we recommend reforming it—specifically through adopting a more capacious definition of what constitutes a "legitimate medical purpose."[73] This appears to be the path taken by the Supreme Court in the recent case, Xiulu Ruan v. United States. There, the Court interpreted the CSA's prohibition on doctors "knowingly" dispensing opioids outside of the "usual course of his professional practice" to mean that, in order to face liability, doctors must know the prescription was outside of the usual course of practice, rather than simply know he was prescribing the substance.[74] This interpretation may work towards reducing the chilling effect discouraging opioid treatments, as physicians can only face liability under the CSA if the government can "prove beyond a reasonable doubt that the defendant knowingly or intentionally acted in an unauthorized manner."[75]
Still, long-term maintenance of patients on opioids—especially illicit opioids like heroin—is still considered to be outside "the usual course of professional practice," and thus remains an unauthorized procedure prohibited by the CSA.[76] Maintaining those suffering from addiction on opioid regimes is considered a legitimate practice in many other countries.[77] For example, qualifying physicians in Canada are allowed to prescribe long-term regimens—and even pharmaceutical-grade heroin—to "people who are severely addicted to opioids."[78] The logic behind these programs follows from the idea that the harms of drug use will be reduced if a user can acquire the substance legally.[79] Recognizing that many people who are highly addicted to opioids are going to seek out these drugs regardless of legality,[80] these programs seek to reduce the harms of drug use by ensuring that users are given an unadulterated substance.
In the United States, legalizing heroin-assisted treatment would require both a rescheduling of heroin from Schedule 1 to Schedule 2, and an agency reinterpretation of the CSA to recognize this practice as legitimate.[81] In turn, reforming the CSA to allow for heroin-assisted treatment would likely have a significant effect on reducing overdose deaths in the United States. As one review of the outcomes of heroin-assisted treatment in Europe concludes, these programs are associated with "substantial improvement in health and well-being of the patients … [including] a major reduction in the extent of continued injecting of 'street' heroin, improvements in general health, psychological well-being and social functioning, as well as major disengagement from criminal activities."[82] And, crucially, heroin-assisted treatment is associated with "reductions in illicit heroin use," suggesting that users are at a decreased risk for overdoses caused by laced substances.[83]
The current nature of the opioid crisis demands solutions that recognize the nuances of the situation. PAPA would only perpetuate the current failed approach by incentivizing the use of black-market opioids, the principal driver of overdose deaths. Instead of limiting access to legal opioids, public policy should be working towards expanding the extent to which opioid users can continue to be treated by physicians in a safer, supervised manner. Amending the CSA to allow for the expansion of legal, legitimate maintenance treatment, rather than increasing the scrutiny of prescribing in an imprecise and ambiguous manner, poses the best policy framework for reducing the harms of opioid use.
Table 1—Data for Illustrations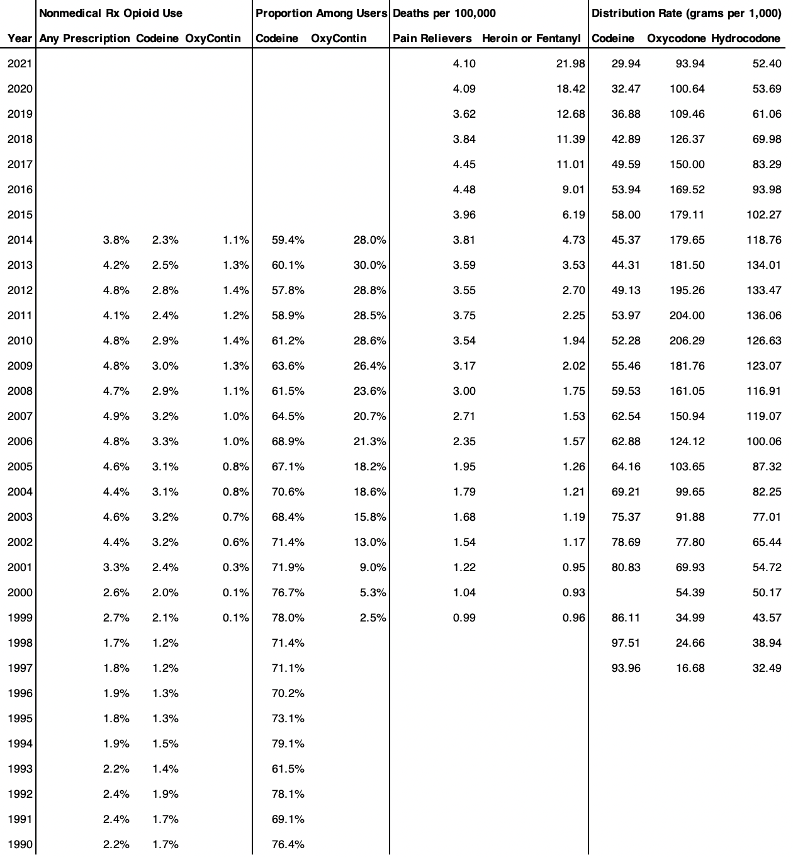 ---